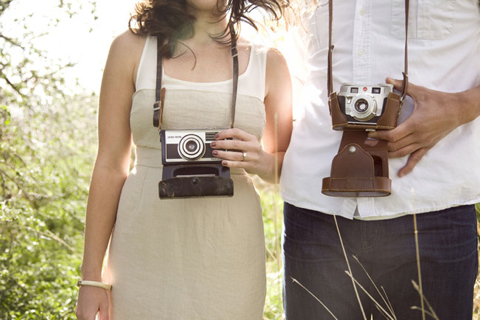 There have been some arguments lately against overly "stylized" weddings and engagement sessions, and for the most part I agree. The goal of any event shouldn't be to land in a magazine or on a blog, but rather to capture who you are on film and freeze it in time for future generations to enjoy. This engagement session from Tana Photography certainly fits into the latter category, and not only is it beautiful it perfectly suits the couple!

Anne and Paul met in a reading class and they are both bookworms, hence the same worn copies of a favorite book. He is an Air Force pilot stationed in Arkansas, but they made a trip to her family farm in Idaho to have their photos taken at a place that is special to them both. And of course if they were bringing along things that were special to them, they couldn't leave out their pup Sam!

This is such a perfect example of how to incorporate a few things that represent who you are, so you can capture the essence of yourselves as a couple without a lot of fuss. And people, there is a baby duck! I have to say, with an engagement session this gorgeous I can hardly wait to see what they create for their wedding this fall. You can see more images from the session on Tana's blog!